Taking Place
Taking Place was a series of events organised and presented in September 2018, by artist-educators working in the Fri Konst (Fine Art) unit at Valand Academy, in the University of Gothenburg. It's become normal in academic contexts to talk about artistic practice as a type of 'research', but this is not usually the way in which art is presented in the gallery or the museum. Instead, it's more usual there to focus on the finished object, the performance or the installation, and to detach it from the way in which it was produced. In these events, Valand lecturers talked about how processes and methods of research shape their individual works and their overall practices, and what is meant by 'research' in the context of artistic production. We looked for ways to connect the academy with the art world; and we started to think outside of the constraints of both.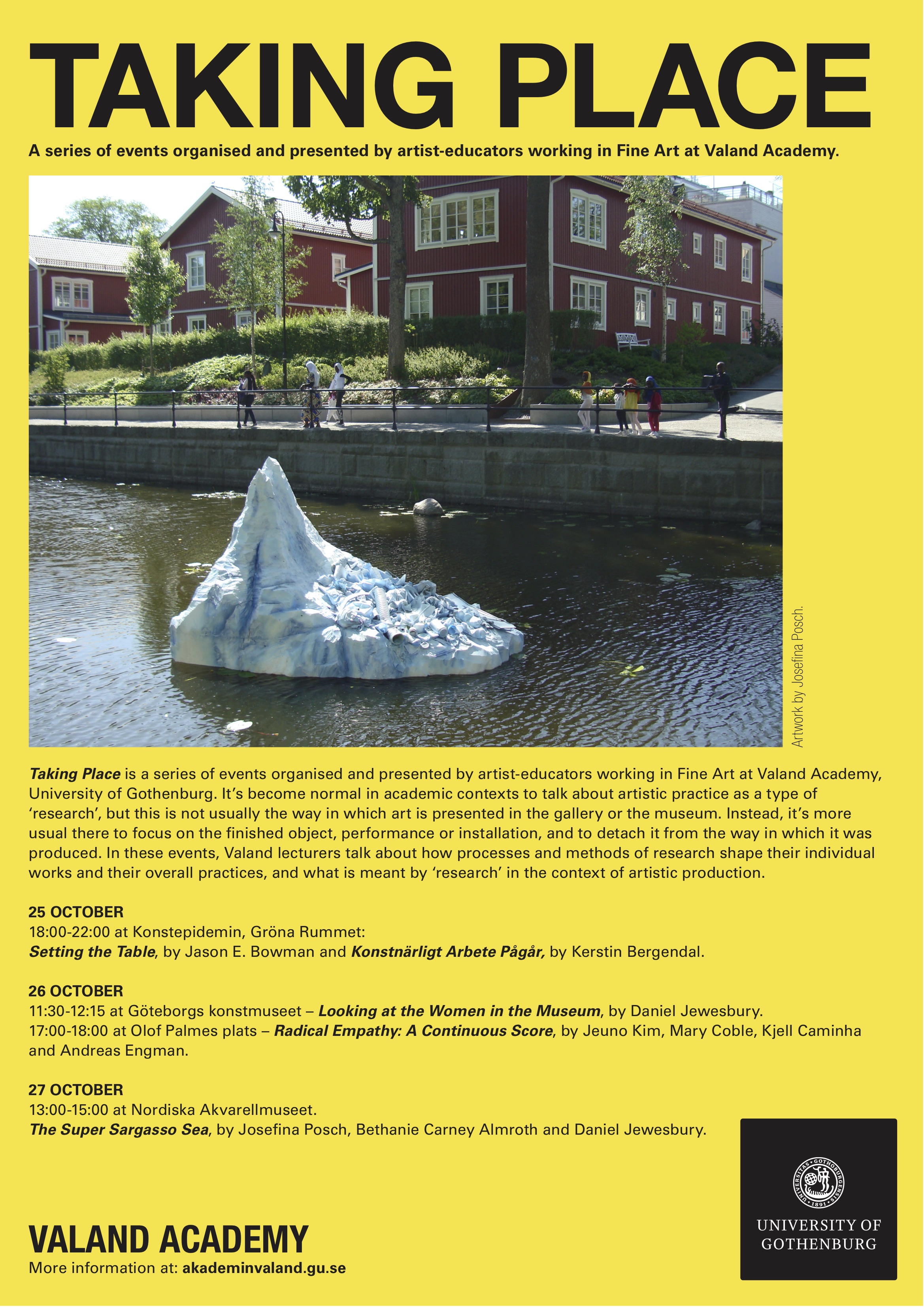 We held a public programme of talks and performances, in venues around Gothenburg and the region. Jason E. Bowman and Kerstin Bergendal presented their projects Setting the Table and Konstnärligt Arbete Pågår, at Konstepidemin; Daniel Jewesbury performed Looking at the Women in the Museum in the Furstenberg Gallery of Gothenburg's Konstmuseum. P*D*A (Public* Display* of Actions*) – a collective comprised of Jeuno Kim, MC Coble, Andreas Engman and Kjell Caminha – performed Radical Empathy – A Continuous Score in Valand Academy; and Josefina Posch presented The Super Sargasso Sea, with Bethanie Carney Almroth, at the Nordiska Akvarellmuseet, Tjörn. We also held a roundtable discussion at Röda Sten Konsthall with artist, writer and curator Lucy Cotter, who visited us as a dialogue partner and met individually with artist-researchers in the unit.
Taking Place was the start of discussion about art and artistic research, and we look forward to adding to this record with future events that we undertake as a collegiate.